Showcasing exquisite artwork and talent against Sedona's red rock backdrop
WHAT WE DO
Leadership
Learn more about the Board of Directors and members.
ABOUT US
Our Story
Learn more about the history and the mission of the festival.
WE CREATE
Scholarships
Our scholarship program helps high school students pursue their dreams.
GET IN TOUCH
Contact Us
Have questions or comments for us? Let us know how we can help!
Let the Fine Art Surround You!
Click the button below to become one of our Participating Artists
Organics are also an art
Gourmet Row
A favorite stop at the Sedona Arts Festival is the Gourmet Gallery, your one-stop shop for locally made yummy treats for your kitchen and luxurious products for your bath.
Let the Fine Art Surround You!
Stay tuned for information on becoming
a Participating Artist
Let the Fine Art Surround You!
Click the button below to becoming
a Participating Artist!
"Marvelous event! Can't wait to return! Sedona is a stunning place."
JULIE ENGELHARDT, 2016
2021 Sedona Arts Festival
October 9 and 10, 2021
Saturday, 9 a.m. – 5 p.m.
Sunday, 10 a.m. – 4 p.m.
WEEKEND ADMISSION (covers both days): $15
Children 12 and under are FREE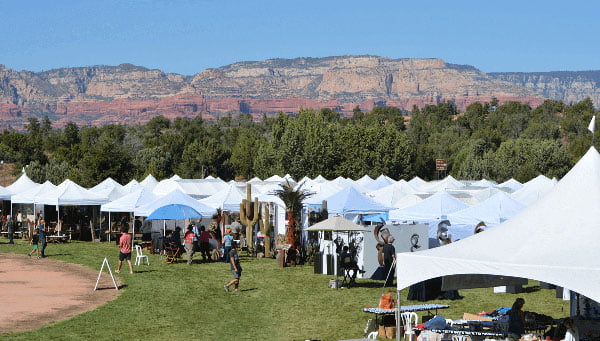 Sedona Red Rock High School
995 Upper Red Rock Loop Road in West Sedona
Your admission dollars help us help our community
The Sedona Arts Festival is our sole fundraiser to support arts education in the greater Sedona area. To date, the Sedona Arts Festival has donated over $300,000 in scholarship and arts education funding.
We are a smoke-free event.
Sorry, no pets allowed on school property. For their safety, please leave your pets at home. Service animals are, of course, allowed.
125 artists from across the US will be showcasing their exquisite work against Sedona's stunning red rock backdrop. Enjoy a wide variety of artistic creations in
Ceramics
Mixed Media
Fiber Art
Glass
Photography
Drawing
Sculpture
Jewelry
Wood
Metal
Painting